Bigg Boss Telugu Season 6 Timings: The sixth season of Bigg Boss Telugu will return to television with a bang. King Nagarjuna, who has successfully hosted previous seasons, will be the show's host. Soon, the eagerly anticipated season of nonstop entertainment will start. The audience for this show spans all age groups.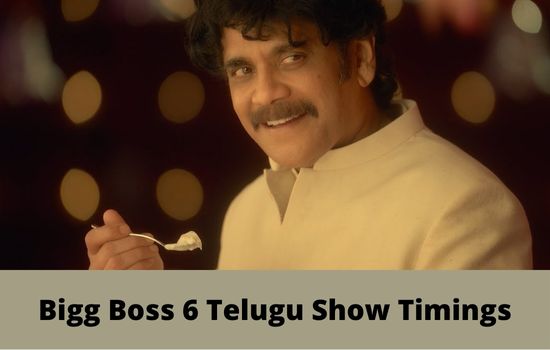 Bigg Boss 6 Telugu Show Timings
We can anticipate that the Bigg Boss Telugu Season 6 premiere date will be on Sunday, September 4th. The programme will be broadcast on Star Maa and streamed live on Disney+Hotstar, the program's official OTT service. The official website for Bigg Boss Telugu Season 6 voting will be Hotstar.
We can anticipate big things from the show this time around based on the teaser that has been released. There are rumours that common people will also be given a chance to compete in the show. The same thing occurred in season 2. The names of the contestants have been narrowed down, and it has been reported that they will receive much higher compensation than the contestants who took part in the previous seasons.
The timings for the previous season of Bigg Boss Telugu, known as Season 5, were also the same. That season was a smash hit and generated a lot of buzz among viewers. This was the first season in which a woman contestant on The Bigg Boss Telugu OTT won the competition, which was also quite popular. In the show, Bindu Madhavi made history by winning Bigg Boss Telugu OTT.
Now we must wait and see if the remaining housemates and the OTT contestants will enter the show together or if the commoners will enter the house this time, as there are rumours circulating. We are unsure of how pertinent this information is, but we must wait to find out if the housemates will be commoners after the commoners' auditions have taken place. The Bigg Boss Season 5 received fantastic TRP, and we can anticipate more content and entertainment in Season 6, which will help the channel gain more TRP and move up the rankings.
For 105 days, there will be daily entertainment for the audience as well as a tonne of discussion material about the contestants and daily predictions. Therefore, it will be interesting to see who auditions for and wins the Bigg Boss competition.
Time of broadcast: Star Maa Channel and Disney+Hotstar, 10 p.m. Mondays through Fridays, and 9 p.m. Saturdays and Sundays.
So audience, brace yourselves because the entertainment reality show is returning with a bang and we can anticipate some truly amazing things from the programme this time around.